Sigh! Remember how I keep telling you that Aishwarya Rai is somehow allergic to Cannes and instantly loses any sense of style the second she steps out on that hallowed red carpet? Well! My deepest fears have been reinforced for the 11th year in a row. After a moment of hope when the iconic Bollywood actress was snapped in a chic Angelo Katsapis maxi-dress during the afternoon, it's back to square zero at the just-concluded L'Oreal Paris-amfAR (The Foundation for AIDS Research) dinner.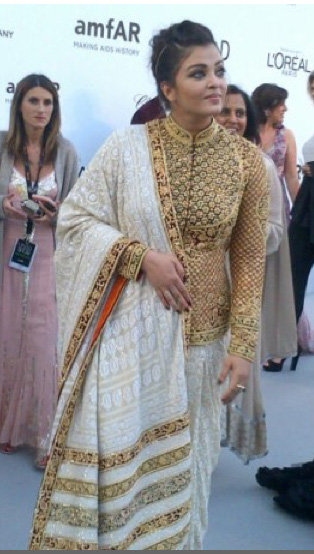 For some strange reason, Aishwarya decided to look like a stern politician rather than the glamorous Bollywood star that she is supposed to be. And nope, it has nothing to do with the post-baby weight gain… the blame lies solely on the rigid silhouette and unflatteringly high neck of her jacket-style blouse. This, coupled with the heavy fabric and long sleeves make her seem super-severe and far, far older than her age. The look is not tacky (unlike the past), it just makes her look really dreary and is supremely B.O.R.I.N.G. Which in itself is a crime against style at a distinctly cheery place like Cannes.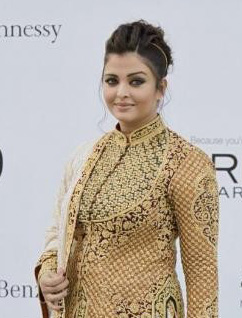 I can understand the need to cover up Aishwarya's post-pregnancy bulges (in fact, this jacket-blouse and sari drape actually makes her tummy look bigger) but as the afternoon's dress showed, this could have been better achieved with a flowing gown or one of those much-anticipated anarkali kurtas.
Heck, this is one woman who has always looked gorgeous in a sari – all that she needed was a shorter blouse with cap sleeves and a boat neck or V-shaped cleavage. And a decent hairdresser – what's with the super-tight up-do? How many times do I need to explain that you look far prettier (and younger and slimmer) with loose, flowy, touchable hair Aish? Why in the world would you do this to yourself and to us? Why, why, why, why, WHY?