The right-leg-à-la-Angelina-Jolie and chunky platforms are clearly going to be the mainstays for Freida Pinto at Cannes 2012. Thankfully, though, she got rid of the ghastly paintbox effect and unflattering peplum add-ons for the opening night dinner – and I have to say that she looked utterly gorgeous in the black Versace gown, which showed off her awesome figure to full effect. This is the Freida Pinto that we know and love!
The Slumdog Millionaire star picked out a lime green Atelier Versace gown for the Rust and Bone premiere – this time with a hint of demi-peplum at the waist. I can't understand why she doesn't go for more fitted column gowns, sans so many embellishments – if I had a body like hers, I definitely wouldn't be draping it in not-so-flattering layers. Still, a definite improvement over yesterday. The right leg? Yup, it's still there!
What she really needs to work on now is her front-of-the-camera posing. I heart the triangular-print bralet and matching mid-calf skirt by Salvatore Ferragamo that she wore for the photo call of her new film – Desert Dancer. But that awkward, full frontal, belly jutting out, body awkwardly balanced sideways: Not flattering at all! This is one place where she can take some tips from Aishwarya Rai, who definitely knows how to rock the camera if nothing else.
But what I definitely do love is her hair and makeup here – perfectly highlighted, just the right side of messy ponytail, flawless skin, sculpted cheekbones, a touch of golden shimmer on the eyes to catch the light, arched brows and nude lips. Way to go!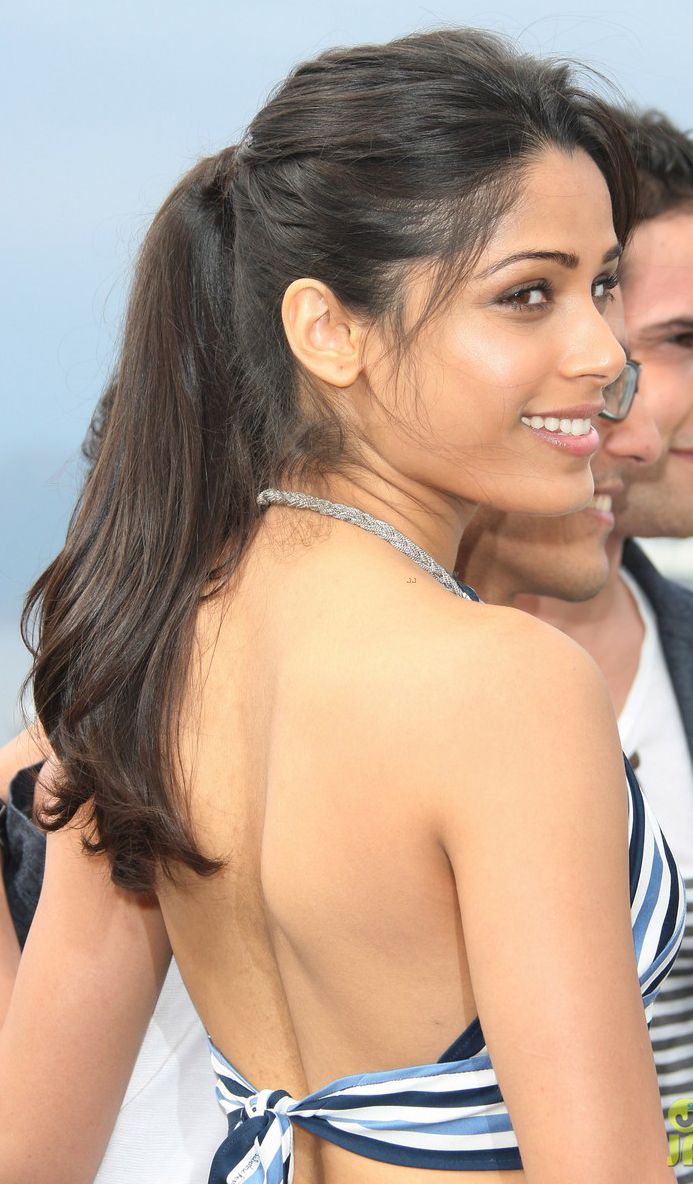 But talking of makeup (and by extension makeup brands) why did she cover up this utterly gorgeous gold-metal-link Paco Rabbane dress with such an odd white thing (don't know what to call it – coat, jacket, second dress, cloak?) at the L'Oreal party? Why, oh why, would one add those safety pins? It just destroys the silhouette and makes the whole thing seems ill fitting. So not Liz Hurley.
Overall Rating: Despite the brilliance with the black Versace, Freida's sartorial savvy remains unimpressive (though one should be thankful that at least it's not as embarrassing as the first day!). And she really, really needs to stop repeating the right-leg thing and stop channeling past icons. Grow up, Freida! 'Tis time to develop a style that's all you own.