Cannes 2012 is done and dusted but it has left a trail of style and beauty moments that are sure to influence fashionistas for months to come. And, happily, despite the many (many many many MANY!) sartorial disasters from Team India (Aishwarya Rai, Mallika Sherawat, Freida Pinto, Sonam Kapoor – I refer to you), there are three trends inspired by Bollywood celebs (actually only two celebs – Mehr & Arjun Rampal) that have already caught the global fancy. I have been receiving loads of messages asking about the anarkali tunic, bandhgala and jodhpur trousers. So, here goes – a quick primer on the haute-st looks of the coming season! Let's start with those dashing jodhpurs.
Jodhpurs: Ready to make the jump?
Unlike what a leading fashion magazine reported Arjun Rampal's jodhpurs are not a new invention. They are having a revivalist's moment of fame in 2012 but the style is almost 125-years-old! This style of trousers was first made famous by Maharaja Sir Pratap Singh of Jodhpur in 1890 and is based on an ancient Indian trouser called the churidar, which is tight around the calf and baggy at the hips. The first jodhpurs were cut in a wing shape – flared at the hip and then tapering down to fit snugly from just below the knee to the ankle, with reinforced fabric protecting the inner calf and knee from rubbing. Their prime purpose was allowed free movement of the hip and thigh while riding a horse on the polo field.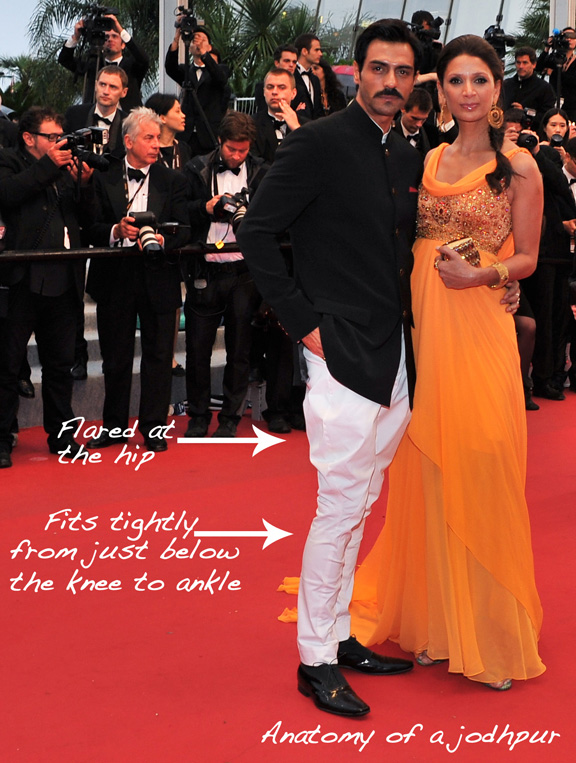 When Sir Pratap Singh visited Queen Victoria during her Diamond Jubilee celebrations in 1897, he took along his entire polo team. The royal young bloods immediately caused a sensation among the fashionable circles of Britain, with their reputation enhanced through victory in most of the polo matches. The jodhpurs were rapidly taken up by the British polo-playing community and were soon being produced by Savile Row tailors in London. By the 1920s, ladies began wearing jodhpurs as well  – one of the most famous proponents being Coco Chanel. In India, the female icon of jodhpur-wearing chic was Maharani Gayatri Devi, acknowledged as one of the most beautiful women in the world.
Today, jodhpurs are not only de rigueur riding garb but also a major fashion statement, having been picked up by design houses ranging from Gucci and Ralph Lauren to Etro and Dolce & Gabbana. The classic versions (like those made by Indian designer Rohit Bal for Arjun Rampal's Cannes appearance) are still cut full at the hips, fit tightly from knee to ankle and end in a cuff with a strap under the instep. Some of the more experimental varietals, however, use modern stretch fabrics to remove the flare and yet remain supportive and flexible. However, to me these newer versions just don't evoke any of the romance of watching dapper young men striding through a polo field (or a red carpet) full of daring and an almost brash bravado that tempts and tantalises with its very insouciance.
And though everyone in the world of haute couture is scrambling to produce these regal garments, somehow their very charm still lies in the small by-lanes of the towns that first invented them more than a century back. Looking for the original stuff? You won't go wrong with Jodhpur Tailors, which is still patronised by Jaipur's royalty!
PS: The word jodhpurs is often used interchangeably with riding breeches, though this is technically incorrect, as breeches are riding apparel that come down to only about mid-calf, designed to be worn with long stockings and tall boots.