Perfumes are supposed to be the most intangible of all sensory experiences. But sometimes, there comes along a rare one that evokes the most seductive images. A dab on the wrist and a whole story unfolds: The rhythmic sound of bare feet dancing in abandon on a stone floor, the flare of voluminous muslin as the dervishes whirl ever faster, a cloud of sultry incense-laden smoke, a glimpse of kohl-laden eyes, a flash of skin, the beats of ancient musical instruments, leaves blowing in the wind, fires burning from magical woods… seduction, calmness, spirituality, relaxation all rolled into one bottle.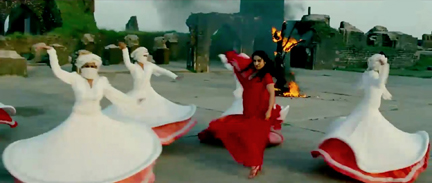 The Fragrance
This is the tale of Sufi, a new Eau de Toilette that has been custom-blended for Delhi's Imperial Hotel by the French fragrance icon Fragonard. It's a perfume that has the quality of a dream and the essence of Sufi thought – one of the most ancient and mystical spiritual schools in the world. There is a swirl of vetiver, tonka beans, cedar wood, patchouli and white musk underlined with green peppercorns and sage. "The green pepper corns add a hint of spiciness with a note of positive energy, while vetiver gives it a fresh feel and patchouli has been known as an aphrodisiac for ages ," says Jacqualine Tara Herron, Director of the Imperial Spa.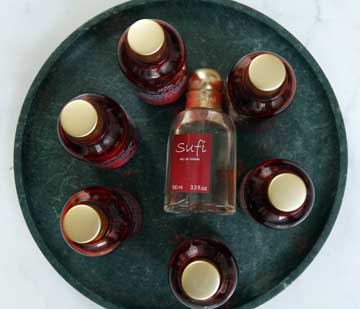 The Body Oils
The Sufi Range is a labour of love for Tara, who has been a follower of Sufi thought for a long time. Along with the fragrance, she has also developed six Sufi Oils of Spirit that take a holistic approach to rejuvenation by promoting complete relaxation through body and mind. Crafted on a base of pure cold pressed oils like jojoba oil, carrot seed oil, Moroccan argan oil, sweet almond oil and apricot kernel oil, they deliver deep relaxation, well-being and inner harmony when massaged into the skin or poured into a bath.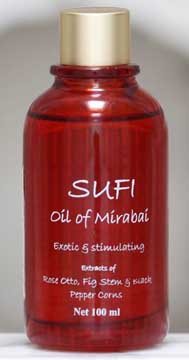 Each one offers a different experience: The Oil of Kabir (with frankincense and neroli) is calming, healing and purifying; the Oil of Kerala uses traditional spices from it's namesake State (ginger, cinnamon and clove) to awaken the body and the mind; the Oil of Mirabai (my personal favourite) blends fig, rose and black peppercorns for rejuvenation; Oil of Rumi (chamomile, sandalwood, amber) is relaxing and calming; Oil of Mahadeva (rose otto and sandalwood) is enriching and nourishing; while Oil of Jaipur (grapefruit, pettigrain and juniper) is uplifting.
All the products come in elegant, warm red bottles – a colour that's known to be integral to Sufi thought. They are all available for purchase at the Imperial Spa & Salon and are priced at Rs. 4,000 (approximately $75/€60/£48) for the 100 ml Eau de Toilette and Rs. 1,200 ($23/€17/£15) for each of the 100 ml oils.