It may seem like a total mismatch – the government-run Karnataka Soaps & Detergents and French couture giant Hermès – but the former says it has been inspired by the latter to create an uber-luxe version of it's iconic Mysore Sandal Soap. Priced at Rs. 720 (approximately €10.60/$14/£8.8) for 150 grams, this is India's most expensive soap to date – a big step up for the company whose previous soaps cost just Rs. 70.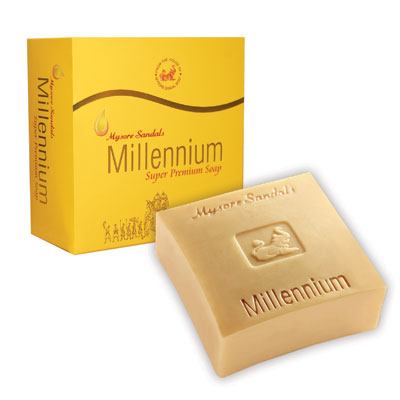 But it's not just about empty luxury – at the heart of this Mysore Sandal Millennium  soap is a whopping three per cent of pure Indian sandalwood oil, whose increasingly limited availability has led to the prices shooting up ten-fold to upwards of $4,000 per litre in the last decade (read more about the problems of the Indian sandalwood industry in this article).
So, not only does this soap enjoy all the skin-perfecting and protecting benefits of Indian sandalwood (reduction of acne and stretch marks, relieving inflammation and itching, preventing premature ageing, imparting a soothing, toning and moisturising effect, preventing scars and marks, acting as a natural sunscreen and guarding against hyper-pigmentation to list a few) but is also chock-full of high grade vegetable and floral oils (like jojoba and mimosa), skin conditioners, moisturisers, Vitamin-E, glycerin and hydrolysed milk proteins that are high in amino acids to help skin remain supple and hydrated.
The Mysore Sandal Millennium soap, which took three years of Research & Development has been tested for dermatological studies in both India and Paris. It will soon be exported to international markets and might soon be followed by a liquid version.
Will you be buying a bar?
Mysore Sandal Soap has a cult following worldwide and even Queen Victoria rated it as her favourite skincare product