Finally it's D-Day. The day when Aishwarya Rai will put an end to all the speculation surrounding her wardrobe for Cannes 2012. The lady has had more than her fair share of fashion and beauty faux pas at this venue – somehow, there is just something about this film festival that seems to bring out the worst in her. And this time there is the added worry of all that excess post-pregnancy weight. So, all eyes are on Aish and it would need some serious sartorial savvy (and honestly, oodles of courage) for her to walk the red carpet despite not looking picture-perfect at the moment. And for once in my life, I love her for neither hiding away at home nor feeling the need to take drastic weight loss measures that could be plain dangerous for both mom and baby!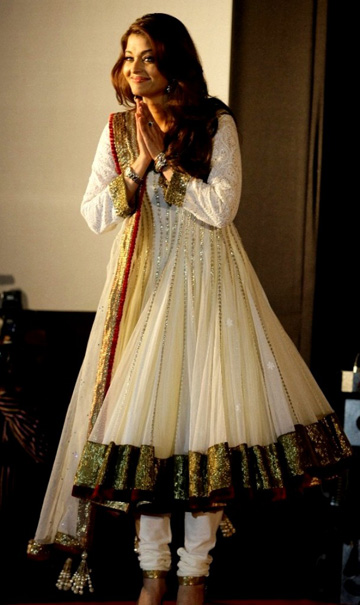 Insider info says that Aishwarya will be forsaking the international couture gowns in favour of traditional Indian attire this year. It's strongly believed that she will be wearing a cream-coloured sari with antique gold chikankari (a delicate, traditional embroidery) designed by Abu Jani and Sandeep Khosla. The famed Indian designer duo has also packed her wardrobe with classic kurtas (Indian tunic tops), including several in the anarkali style, which has become something of a uniform for her post the baby.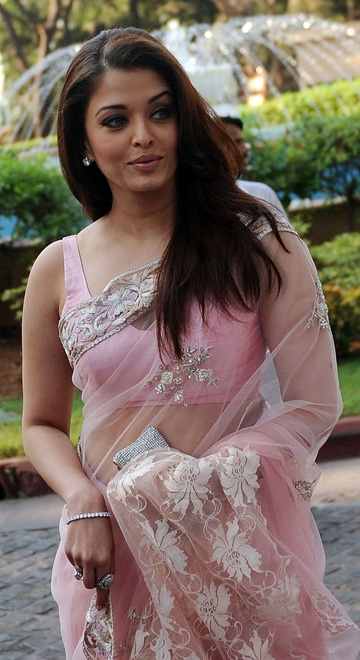 These do seem to be the most reasonable choices at the moment, given that both saris and anarkali kurtas are perfect for hiding all flaws and efficiently camouflaging extra kilos on the body. And for those who believe that a sari is necessarily demure and old fashioned, let me tell you that it can be the most sexy, seductive and modern outfit possible. The secret lies in the way you drape it!
Unfortunately, though, in the past Aishwarya has been at her very worst when she has attempted traditional Indian attire at Cannes. Shocking colours that literally hurt the eyes, seriously OTT jewellery, unflattering silhouettes, ultra-heavy fabrics that would be better suited for curtains… you get the idea.

Through the course of various shoots with Aishwarya, I have realised that she is one person who looks good with simple silhouettes, minimalist accessories, unfussy makeup and relaxed hairstyles. She is a natural beauty and layers of embellishments just mess up her appearance. Sigh! Let's see what tomorrow brings. Please do delight us Aish… an entire country is collectively keeping its fingers tightly crossed!